July 10-21 in Burke and Manassas, Virginia
For rising 4th-12th grade…
Acting, Singing, and Dance training are integrated each day as campers are split into three age groups to develop Broadway skills at their own level! Emphasis on character development, voice placement, audition preparation, scene work, improvisation, and choreography aim to assist attendees for successful future auditions and productions as they become true Triple Threats! Campers will develop new material to be performed on the final day for families and invited guests! ($325 for five days, 9:30am to 3:00pm)
July 10-14 at Nativity Catholic Church in Burke, VA
July 17-21 at All Saints Catholic Church in Manassas, VA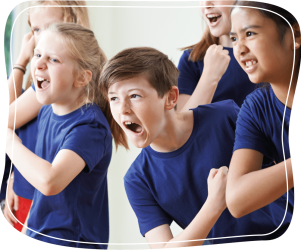 For rising 1st-9th grade…
Develop skills in acting, projection, mime, improvisation, clowning, movement, scenes, and much more in an environment tailored to meet the needs of beginners or students with previous experience and training. Divided into three age groups, campers will explore and be enriched in drama at their own level! Campers will develop self-confidence for the stage & life in a fun and friendly setting that culminates in a final presentation for families and invited guests! ($260 for four days, 9:30am to 3:00pm)
July 10-13 at All Saints Catholic Church in Manassas, VA
July 17-20 at Nativity Catholic Church in Burke, VA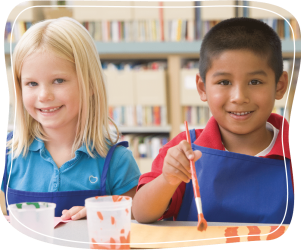 For rising 1st-4th grade…
Engage in multiple art projects and craft activities that allow campers to develop their artistic skills, learn to paint & draw, work with three-dimensional objects and sculpting, and so many other fun projects! Your home will be filled with your child's creations by the end of the week as they really get hands-on with a variety of art! Plus on the final day of camp, parents and family are invited to our Art Show where students display their favorite works for all to see. ($325 for five days + $35 materials fee, 9:30am to 3:00pm)
July 10-14 at Nativity Catholic Church in Burke, VA
July 17-21 at All Saints Catholic Church in Manassas, VA
For rising 5th-9th grade…
Enhance & explore techniques in art through a variety of mediums and projects that will include paper machè, canvas painting, sculpting, watercolor, pottery, sketch development, tie-dye, and much more! Campers receive individual attention as they further develop their artistic skills. It's amazing how much they can accomplish and progress in just a week! Plus on the final day of camp, parents and family are invited to our Art Show where students display their favorite works for all to see. ($325 for five days + $35 materials fee, 9:30am to 3:00pm)
July 10-14 at All Saints Catholic Church in Manassas, VA
July 17-21 at Nativity Catholic Church in Burke, VA
Spotlight on the Arts Summer Camps was founded in 2004 to meet the need of many Catholic families in Northern Virginia who seek excellent training in Theatre and Art for their children within an environment they can trust. Spotlight exclusively employs highly-qualified instructors who are both Catholic and artistically accomplished.
With a small teacher-to-student ratio, it's the goal of the entire Spotlight team to foster a love for the arts and help your young people develop skills that will help them for a lifetime.
"My daughter loves Drama Bootcamp, which is why we will be coming back again this summer. She had fun and I was impressed with the professionalism and enthusiasm of the camp counselors. Well done and thank you!"
"My daughter has gone to this camp for years and is excited every time. Even though we offer her different choices for summer camps, she always chooses this one. To her, it's a safe, fun, physical and educational camp where she can meet and make good friends. Something that she will talk about and remember it as part of her childhood."
"When I asked my daughter what camps she wanted to do this summer, your Broadway camp was the first and only one that she mentioned. These camps are perfect for those that love to sing and dance, and is a great outlet for the dramatic child in all of them."
"These camps are an exceptional value! The camp staff are industry professionals who bring out the creativity in all my kids. They look forward to it every year!"
"Over the years we have seen our children develop confidence and performance excellence in this safe, nurturing, challenging, and FUN environment. The instructors are top notch, the content is exceptional, and the program is perfect. As a director and theatre mentor myself, I would never send my kids to any other camp."
"I cannot thank you enough for the hard work you dedicate yourself to on behalf of the children who enroll in and benefit from these camps. For the last 3 years, they have been the highlight of my grandson's summer vacation!